Ludum Dare 2014
Posted by SPOTCO on May 2014
---
Entered the Ludum Dare 29 (theme: Beneath the Surface) with my game, Maniac Pengmaku!.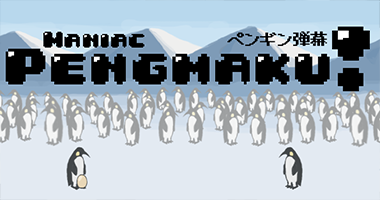 Pretty satisfied with how this turned out. I started a few hours late with absolutely no idea what I was gonna do (and not much painting practice since several years). With this one, I tried to focus more on gameplay (since I do remember the last one, Window Cleaner, I was focused more on story/etc and got criticism for that). Turned out really fun to play, and a good opportunity to learn Haxe and Haxeflixel. Would like to do port to mobile whenever I get the time.

Played a whole lot of other Ludum Dare entries (really liked their system for incentivizing submitters to rate), so here's a few of my favorites.
---
---
---
---
---
---
---
---
---
---
Rated about 170 games (if you count at least 5 minutes per game, that's a WHOLE LOT of indie gaming!) over the course of a week. Was a little slow, so the highest (in ``coolness'') that I ever reached was #35.



Really enjoyed the Ludum Dare experience, and would love to do it again (hopefully with an artist next time though! :))